Enjoy a history walking tour of Charleston with a local guide!
A walking tour offers a wonderful introduction to a city. Charleston Perspective provides walking tours of the historic city of Charleston through the eyes of a local guide.
Your guide will walk you through the historic streets and hidden passages and alleys. Learn about the history, the buildings and the characters that make up the framework of this centuries old town.
With your guide, you will discover the founding in 1670 through Proprietory Rule, British Rule, Wars, Hurricanes, Earthquakes, economics, religious diversity, the Slave Trade, the Gullah Culture, architecture, economic changes to present day growth and expansion.
As you explore the walled city you will see many sites including Rainbow Row, The Old Exchange, Old Slave Mart Museum, Churches, The Harbor, High Battery, and more.
The walking tour will end the courtyard of the Middleton Family Home, built in 1783, in the heart of the walled city district.
Charleston Perspective
Walking Tours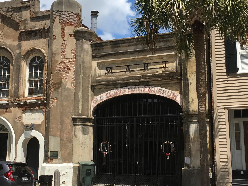 Charleston Perspective Walking Tours will give you a unique personal experience to discover an understanding of the centuries old history of Charleston.
Call or Text (843) 460-8671
charlestonperspective@gmail.com