Private Walking Tours Available
Chareston Perspective can accomodate walking tour groups of all sizes ~ couples, families, friends, wedding parties, school groups, corporate events, and more.
Please call or email for pricing and scheduling:
(843) 460-8671 charlestonperspective@gmail.com
Book your Walking Tour of Charleston with Charleston Perspective
Tour Charleston with a Local!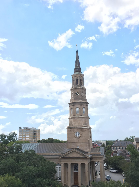 2 hour Pulic Daily Tour ~ 10am or 1pm ~ $25 Adults, $12 Child (7-12), 0-6 Free
Call or email for a Private Tour.
Call or Text (843) 460-8671
charlestonperspective@gmail.com